Interesting little-known things about the glorious past of 20-year-old young star Erling Haaland.
The Norwegian star is having his good days in Dortmund, in order to have the speed and great physique as now, few people know that Haaland was born into a family full of athletes. member and he was able to wear the colors of the England team.
1. Can wear the England shirt
Haaland's father is Alf-Inge, who used to play for Leeds United. During this time his mother was pregnant and the Dortmund star could have worn the white shirt of England because he was born in the city of Yorkshire.
However, Haaland chose to follow in his father's footsteps, he chose Norway and made his team debut on September 5, 2019 against Malta.
2. Haaland inherited athletic qualities from his father and mother.
Haaland's father is not the only athlete in the family, his mother Gry Marita is a former Norwegian national champion in the long jump.
3. World record for long jump
Haaland has had the qualities of a champion since childhood, the young Norwegian star still holds the world record for the long jump in the under-5 category, he made his mark with a 1.63 meter leap into 2006.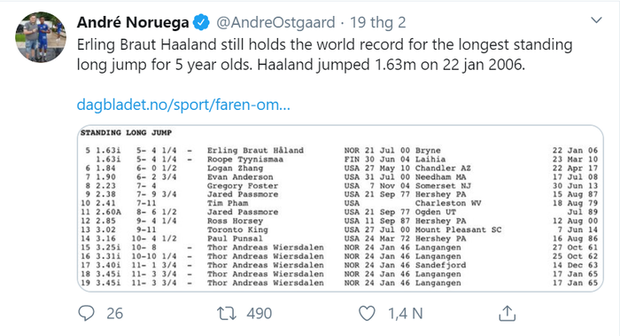 Haaland still holds the world record for the long jump for children under 5 years old with a time of 1.63 meters in 2006.
In addition, Haaland is also an excellent handball player and he also participates in cross-country skiing.
4. First Debut as a Midfielder
Haaland is known as an extremely dangerous spearhead striker of world football today, but in Bryne's first team debut at the age of 15, Haaland was arranged to play on the left wing.
5. Haaland was rejected by Hoffenheim
In 2016, Haaland had a week of probation at Hoffenheim (Germany) but he was not signed because the German club did not accept the young player's salary request.
The Haaland side asks for a salary of 5,000 euros/month, while Hoffenheim only accepts a salary of 2,000 euros/month for young players.
6. Juventus wants Haaland's services in 2018
Haaland was targeted by the defending Italian champion Juventus in early 2018 but it all stopped at a monitoring level and there was no signing between the two sides.
7. Release clause 75 million Euro
According to the German newspaper, Haaland has a release clause in the contract of 75 million euros that can be activated as early as the summer of 2021. It will be a bargain for super agent Mino Raiola, if any club wants to get his signature in the summer of 2021. next time.
8. Haaland learns from Salah's way of celebrating meditation
This type of meditation celebration was done by Mohamed Salah, then Antoine Griezmann and most recently Haaland learned and followed.
9. Copy Cristiano Ronaldo's eating habits
Haaland's father recently revealed his son has entered Cristiano Ronaldo's strict diet after hearing Patrice Evra talk about eating at the Juventus star's house.
10. Idol Ibrahimovic since childhood
Zlatan Ibrahimovic has a different style of noise than Haaland, who has a moderate style, but Haaland once affirmed that Ibrahimovic is the hero in his heart. "I like him because of the way he became strong, his style of play and he is Scandinavian so someone has to be his heir!"