Striker Erling Haaland and his girlfriend Isabel Johansen both wore blue pajamas as they joined Man City to celebrate the Premier League title at a nightclub in Manchester on the evening of May 21.
On the afternoon of May 21, Man City only played with the reserve team but still won Chelsea 1-0 in the 37th round of the English Premier League thanks to a diagonal shot from the 2022 World Cup champion Julian Alvarez. This victory helps the Cup lift of the Manchester club after the match even more complete.
In the evening, Man City players with their wives and girlfriends went to the MNKY HSE nightclub in Manchester to continue to celebrate the Premier League championship and party until dawn on May 22.
In particular, Haaland and Johansen stand out the most with blue pajamas. The Norwegian striker smiles for the camera after a fantastic debut season in the Premier League – scoring 36 goals to set a new record and secure the Golden Boot title.
Haaland and his compatriot girlfriend are said to have been dating for a long time but were discovered by the British media last year. Johansen is also a footballer in his hometown and works part-time in a fashion boutique.
Haaland's father, Alf-Inge, was also present at the nightclub. He wears a blue shirt with a dark coat. After the victory over Chelsea, Haaland joked that he had won more Premier League titles than his father, despite only playing for Man City for one season. Alf-Inge played at English clubs such as Nottingham Forest, Leeds United or Man City itself, but did not win any titles.
Captain Ilkay Gundogan chose a simple look with a black jacket and a plain white T-shirt, when attending the title ceremony with his wife Sara Arfaoui. The German midfielder was told to refuse to join Barca on a free basis and will extend with Man City in the summer of 2023.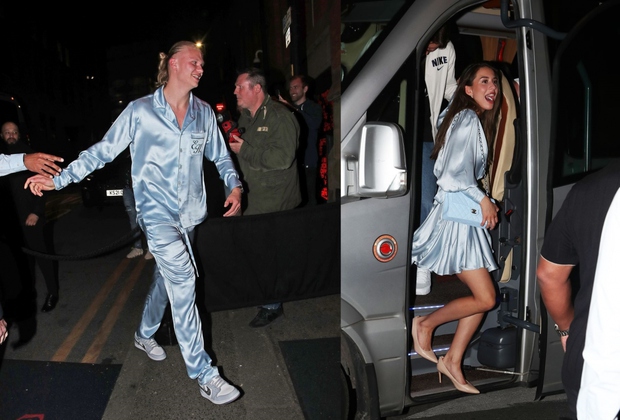 Kevin De Bruyne accompanied his wife Michele Lacroix and wore an elegant black suit. John Stones – who flourished with a new role in Pep Guardiola's system – wore jeans, a t-shirt and a jacket while walking with girlfriend Olivia Naylor. Meanwhile, Kyle Walker, Bernardo Silva, Aymeric Laporte, Kalvin Phillips, Julian Alvarez or Ederson all chose casual outfits.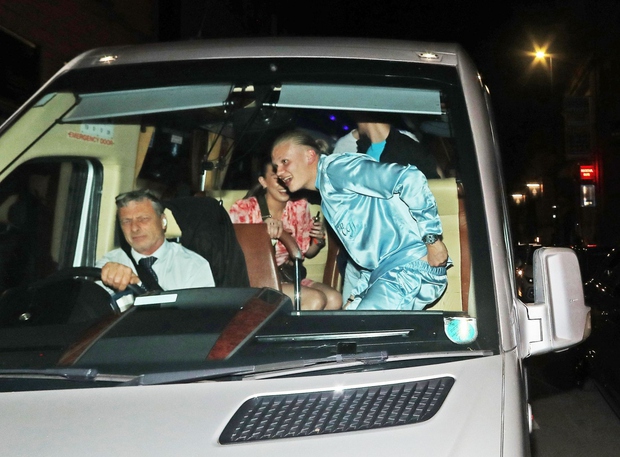 In the nightclub, Haaland filmed a scene of cooking his own steak while taking advice from a chef and posting it on his Instagram Story. Walker sang a song praising the Stones and then said: "He hates Man Utd". British newspaper Sportmail said these statements by Walker were "adding fuel to the fire" before the FA Cup final between Man City and Man Utd at Wembley on June 3. This is the first time the two teams have clashed in the FA Cup final, and even more important when Man City is heading towards a historic treble.