Striker Erling Haaland won both the "Best Player" and "Best Young Player" titles in the 2022-2023 Premier League, awarded by the tournament organizers.
Haaland is the first player to receive this award double, since the "Best Young Player" award began to award the 2018-2019 season to Trent Alexander-Arnold. He is also the third Man City player to win this award in a row, after Kevin de Bruyne for the 2019-2020 season, 2021-2022 and Ruben Dias 2020-2021. Before this time, the only Man City player to win the award was midfielder Vincent Kompany in the 2011-2012 season.
Haaland beat seven other candidates including De Bruyne, Harry Kane, Martin Odegaard, Marcus Rashford, Bukayo Saka and Kieran Trippier to win the "Best Player" award.
As for the young players aged 23 and under, the Norwegian striker won the award against Sven Botman, Moises Caicedo, Alexander Isak, Alexis Mac Allister, Gabriel Martinelli, Odegaard and Saka.
Winners are selected based on a combination of online voting, 20 Premier League club captains and a panel of experts. The award began to be awarded in the 1994-1995 season, and no one has won the award three times. Cristiano Ronaldo, De Bruyne, Thierry Henry and Nemanja Vidic have won the "Player of the Year" award twice.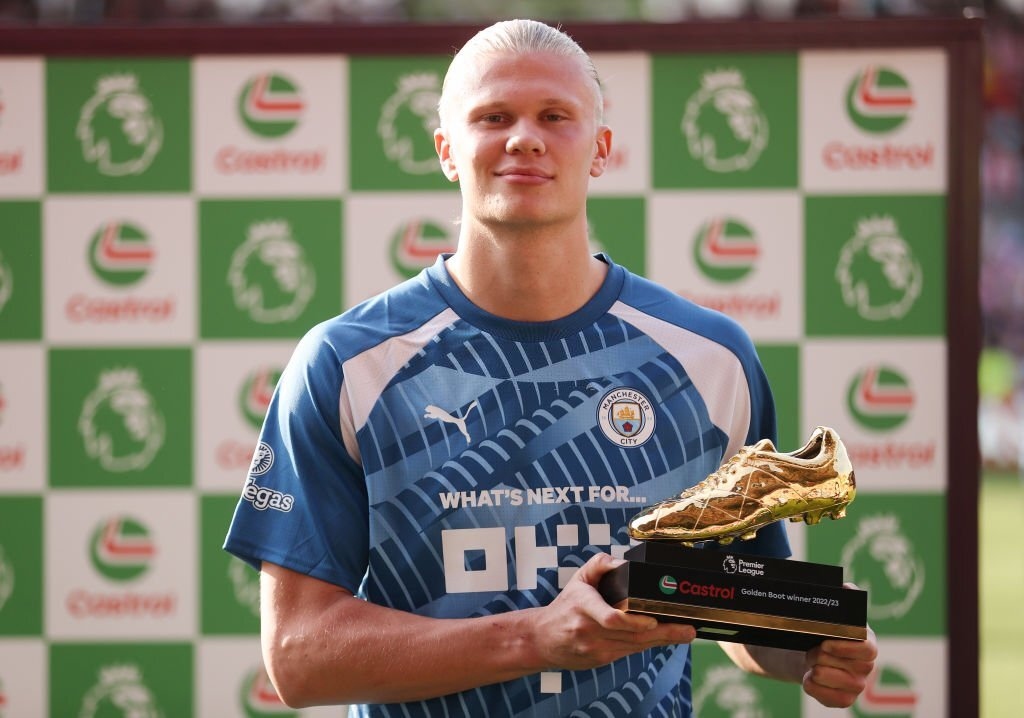 This season, Haaland has scored 36 goals in 35 Premier League games, breaking the record of 34 goals held by Andy Cole and Alan Shearer. He made a great contribution to helping Man City win the championship for the third time in a row, even though he just moved to Man City in the summer of 2022.
"I wouldn't have received these awards without my great teammates," Haaland said. "Coach Pep Guardiola and his associates also made it possible for me to perform on the pitch. Now is the time for Man City to end the full season with two finals ahead."
Man City will meet Brentford in the final round of the Premier League on May 28, and Haaland is aiming to break Thierry Henry's record of 44 goals and assists in a season. To do that, the 23-year-old striker needs to score or assist against Brentford.