Ronaldo will be appreciated more, if he accepts to let go to say goodbye to the national team after the 2022 World Cup finals. Trying to cling to Portugal is only to conquer more personal records, turning him into a greedy person. lam in the eyes of many fans.
Cristiano Ronaldo holds an unprecedented record in world football history with 198 caps for the national team. But he didn't want to stop there. CR7 is still on the list of summons for Portugal this time by coach Roberto Martinez. If he plays against rivals Bosnia and Iceland, he will reach 200 international matches.
Ronaldo's greatness cannot be denied . What he has done for the Portuguese national team is beyond amazing. In 198 appearances, CR7 has scored 122 goals, far ahead of the second in the list of the all-time best strikers of the European Selecao, Pauleta – the player who has scored 47 goals in color. national team shirt.
In particular, Ronaldo has made a great contribution to helping Portugal win the EURO 2016 and the UEFA Nations League in the 2018/19 season. Those glorious feats, plus great form at the club level have helped the 38-year-old striker win 5 Golden Balls. If talking about stature, in the history of Portuguese football, if Ronaldo is number 2, no one can be number 1, even legends like Luis Figo or "black leopard" Eusebio…
But if only Ronaldo decided to withdraw after the 2022 World Cup, everything would be better. By the age of 38, CR7 is no longer fit. He did not contribute much in the play of the Portuguese team. In a recent interview, head coach Robert Martinez only said that Ronaldo is an important factor in the dressing room. He absolutely avoids mentioning the professional contribution of the star who plays for the Al Nassr club for Portugal.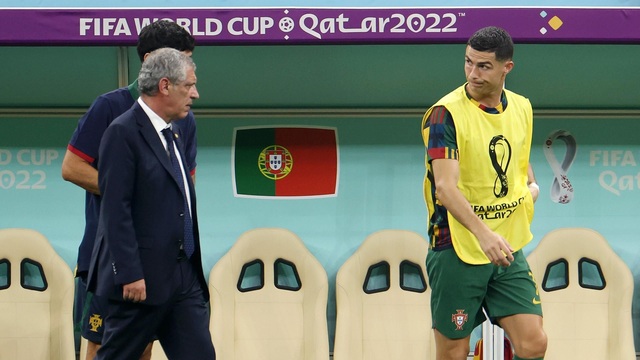 In the 2022 World Cup finals, Ronaldo's decline was evident. He played poorly, so much so that coach Fernando Santos at that time decided to banish this 38-year-old striker on the bench in the last 2 matches. Because of that, CR7 used to get mad. Ronaldo announced that coach Santos would no longer have him and threatened to leave the national team immediately. But after Mr. Santos resigned and coach Martinez was replaced as head coach, Ronaldo changed his mind.
Maybe Ronaldo doesn't think much. CR7 did so simply because his will and energy did not allow him to give up the national team, once he felt he could still contribute (Everyone knows how extraordinary Ronaldo's will and energy is, making him the outstanding player of contemporary football). This is even commendable. But if Ronaldo is willing to let go and step off the stage to make room for the juniors, then he deserves to be honored even more.
After taking over the position of head coach of Portugal, coach Martinez is trying to rejuvenate the squad. He gave opportunities to many new players nineteen and twenty such as defenders Antonio Silva, Goncalo Inacio, Nuno Mende, striker Goncalo Ramos… Along with that, the former Belgium coach tried to upgrade the stars. like Joao Felix, Bernardo Silva, Ruben Neves, Bruno Fernandes… to new heights. However, this 49-year-old strategist has not yet dared to radically reform because of the entanglement of gods like Ronaldo or Pepe in the squad.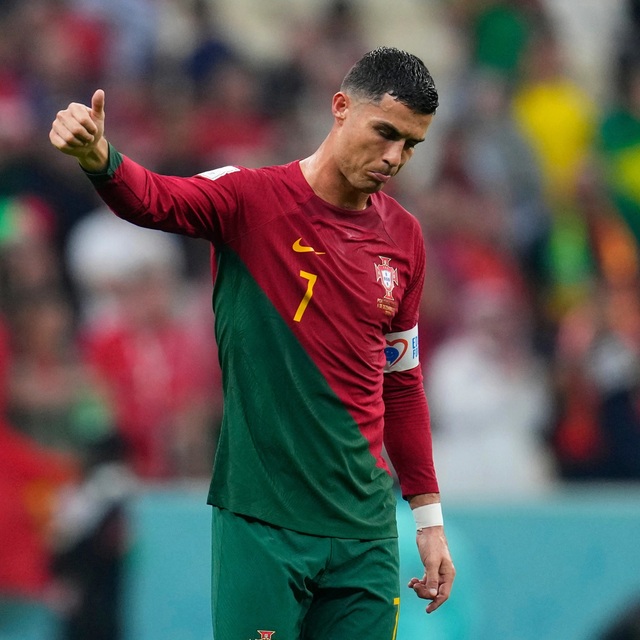 Except for Ronaldo, everyone else is aware that the Portuguese team no longer needs him. Mr. Martinez could not build a squad towards the EURO 2024 finals with a core of a star who was about to return to the garden. In a simile, to build a spacious, modern new house, the first thing one needs to do is demolish the old house to make a new foundation. Ronaldo is like the main pillar of an old house. His existence is a hindrance to any reform plan.
Remember, when Mr. Martinez announced the list of summoning squads to prepare for the EURO 2024 qualifying campaign, even Portuguese football lovers found it difficult to understand. On many online forums, they criticized the new national team coach for being indecisive and said Ronaldo was "greedy like a ditch". In the opinion of the majority, CR7 went to Saudi Arabia to determine how to earn money for retirement, so it should not be recruited to "occupy".
For his part, Ronaldo appeared indifferent to the gossip of the public. In an interview not long ago, the 38-year-old striker affirmed: " I still feel very satisfied . I think I can still contribute to the national team for a few more years. There is no reason for me to make the decision to retire from international competition at this time." Ronaldo also proved smart when he kicked the ball to the new head coach Martinez: "And I do not have the right to decide. Coach Martinez summoned me because he felt I was still useful."