From this moment on, superstar captain Cristiano Ronaldo will have an important voice in the transfer work of the host club Al-Nassr.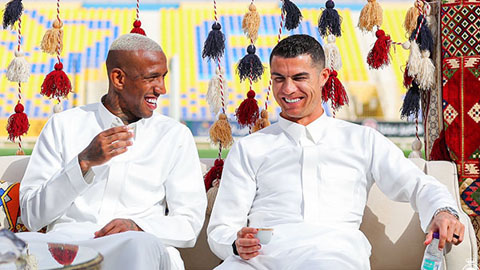 After the 2022/23 season empty-handed, Al Nassr will carry out a drastic reshuffle of the force to aim for a more successful 2023/24 campaign, with the goal of winning the Saudi Arabia national championship. Therefore, the Al-Nassr team will recruit quality players, and push away many names that are not in the plan.
According to The Athletic, in the rebuilding of Al-Nassr's squad, Ronaldo has great power. Specifically, CR7 was selected by Al Nassr as one of the leading members of the team's transfer committee. Taking on a big responsibility, Ronaldo will have a decisive voice in identifying potential targets for Al-Nassr.
To make it easier to understand, Ronaldo will be one of the important figures in the plan to develop the force, buy and sell players. It can be seen that Ronaldo's influence at Al-Nassr is huge , even though the 38-year-old striker has only been at the club for more than 5 months. Not only the voice has weight in the BLD, CR7 also clearly shows the leading role on the field and in the dressing room.
Last season, Ronaldo played brilliantly even though he was only in the middle. However, the Portuguese international also scored 14 goals in 16 matches in the Saudi League. Unfortunately, CR7 could not help Al-Nassr win this season. After the unsuccessful 2022/23 season, Ronaldo is on summer break.
Recently, CR7 came to Singapore to promote the scholarship fund of his close friend Peter Lim. In the near future, Ronaldo will join the Portuguese team to prepare for the EURO 2024 qualifiers.
Source BONGDAPLUS